Homeuse: Installation auf PC's außerhalb der TU / Homeuse: Installation on PC's outside TU
Installation und Aktivierung /Installation and activation
Deutsch
English
Bitte wählen Sie bei der Installation Produkt installieren (erfordert Seriennummer) aus.
Please select Install Product (Serial required) during installation.
Nutzen Sie folgende Seriennummer
Use the following serial number
SF8T5-6078-7608027
Registrieren Sie sich auf der Origin Webseite.
Please register on the Origin website.
Registrierung / Register
Die Emailadresse muss eine der folgenden Suffixe haben.
Therefor you need a email address with one of the following suffixe.
@chem.tu-berlin.de
@festk-ramanspektro.tu-berlin.de
@ceramics.tu-berlin.de
Produktschlüssel anfordern
Request a product key
Produktschlüssel anfordern / Request a product key
Der Produktschlüssel wird ihnen an ihre Emailadresse zugeschickt.
The product key will send per email.
Lizenz deaktivieren / Deactivate License
| Deutsch | English |
| --- | --- |
| Bevor Sie Origin deinstallieren, sollten Sie Ihre Lizenz deaktivieren. | Befor you uninstall Origin, you should deactivate your license. |
| Im Menü Help können Sie Ihre Lizenz deaktiveren. | In Menu Help, you will find "Deactivate License". After that you will get a succesful message. |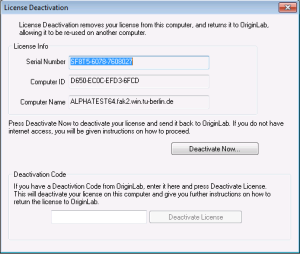 Converting Your Evaluation to Product